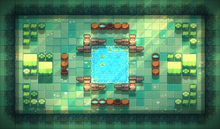 Overview
Watering Hole is a one of the most open maps in Nemoris. The water in the centre makes it risky to approach the power ups.
Be aware of the vertical, horizontal and perimeter lanes.
There are a few good spots to stand in the open areas where shots are unlikely to hit you, for example on the second row down (and second row up) inline with both sets of stumps.
Ad blocker interference detected!
Wikia is a free-to-use site that makes money from advertising. We have a modified experience for viewers using ad blockers

Wikia is not accessible if you've made further modifications. Remove the custom ad blocker rule(s) and the page will load as expected.