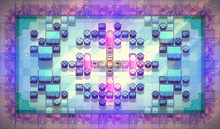 Overview
This map is rare in that the spawn points are in the centre of the map. Four power-ups drop at a time, long matches quickly escalate as the fire power increases dramatically.
Watch out for Selene in this map, she can jump the walls at the start and get cheap buffer shot kills if you don't leave the start area quickly.
Ad blocker interference detected!
Wikia is a free-to-use site that makes money from advertising. We have a modified experience for viewers using ad blockers

Wikia is not accessible if you've made further modifications. Remove the custom ad blocker rule(s) and the page will load as expected.