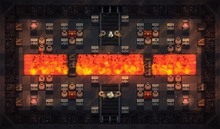 Overview
A wall of fire separates the top maze from the bottom maze. Watch out for shots over the lava/fire.
If you find you are constantly chasing someone around the map, you can shoot out the boxes on the bridges to shortcut across.
There are several dangerous vertical lanes but very few horizontal ones.