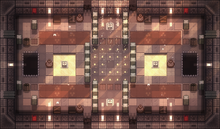 Overview
A large area of sand piles surround the centre of the map where power ups drop. This makes it hard to approach a power up without being noticed. When the centre walls are down Sand Trap is quite open - beware if the split-shot power up drops, you don't want your opponents to get it as there are limited safe hiding places.
There are some sneaky lanes behind the pits that can be used to sneak up on players.
Ad blocker interference detected!
Wikia is a free-to-use site that makes money from advertising. We have a modified experience for viewers using ad blockers

Wikia is not accessible if you've made further modifications. Remove the custom ad blocker rule(s) and the page will load as expected.